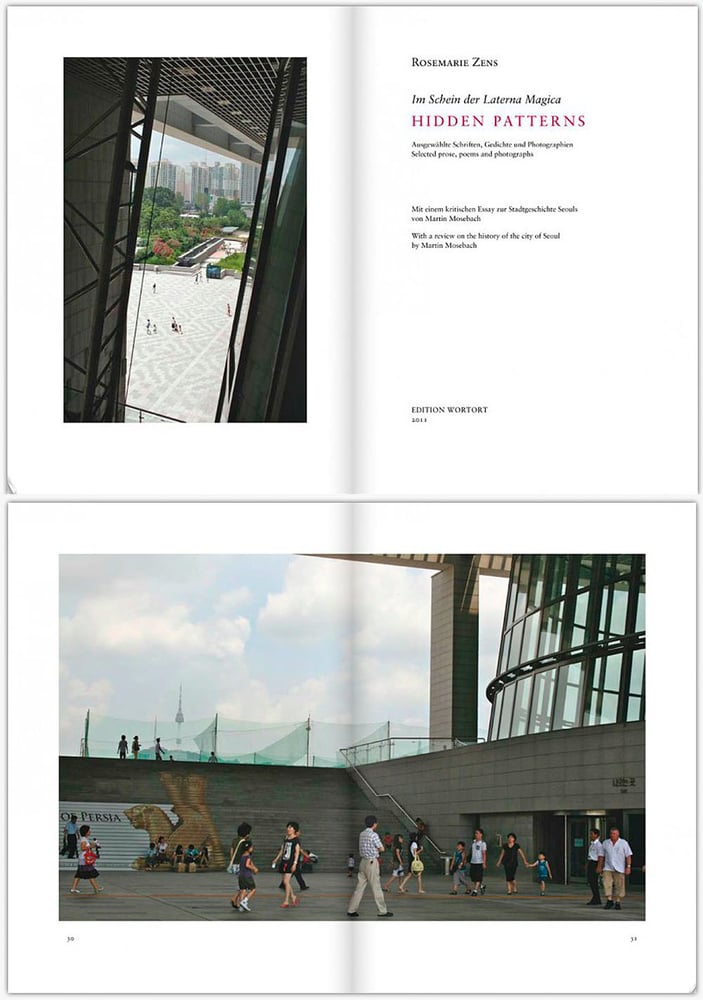 Rosemarie Zens
Hidden Patterns
Im Schein der Laterna Magica
Selected prose, poems and photographs
With a review on the history of the city of Seoul
by Martin Mosebach
80 pages, edition of 300 copies
bilingual en / dt
Edition WortOrt, Berlin 2011
Poetry can be perceived as a space for memory: memory of our origins, of our deepest fears and yearnings, and of the primal myths woven out of them; it can be also understood within this context as a primal melody, an echo, created and thought time and again in a continuous search for clarity.
Clarity, in this sense of a clear vision, of entering into the future only if poetry is certain of the past, of the roots that lie ahead of us and show us the way forward, to how the dark room can be filled – with screaming or song. This being a daily decision in the process of finding reality in depiction, echo and resistance, even to ourselves – the challenge of finding creative form. As in the verbal images of myths which open our inward eyes to our inner being. As a kind of common human memory, in which the separate inner and outer worlds become one and impart identity in sense and sensibility.
Freud describes his drive theory as our mythology: »Drives are mythological beings, splendid in their indeterminacy«*. This can be modified today: just as we see the ›genetic code‹ in animate nature, we can see the poetic code of the human spirit in myth.
Rosemarie Zens