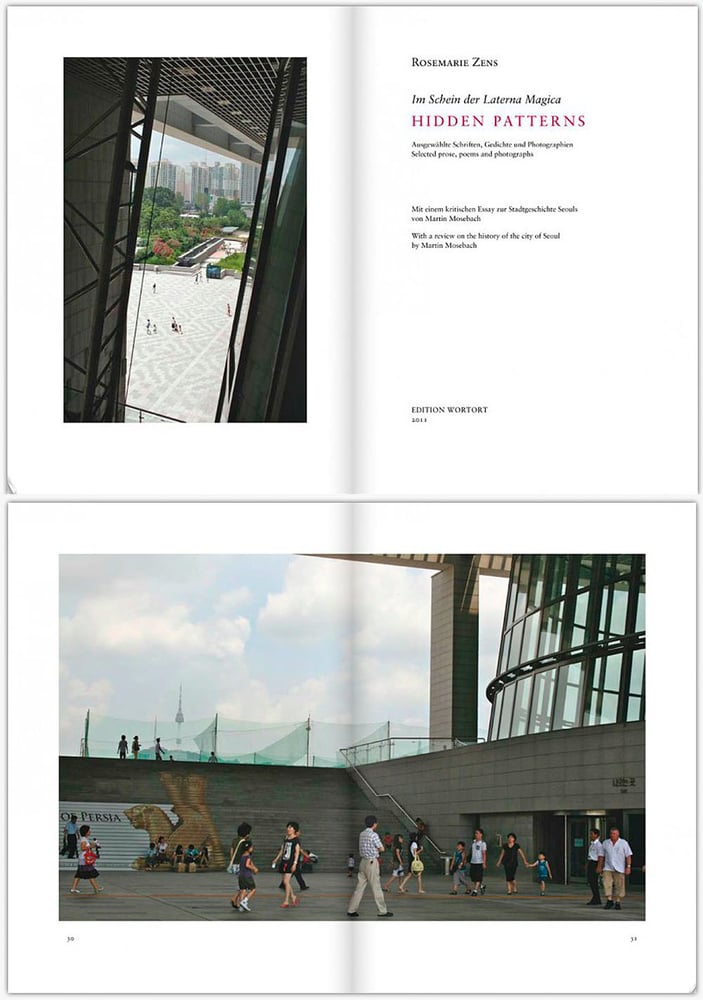 Rosemarie Zens
Hidden Patterns
Im Schein der Laterna Magica
Selected prose, poems and photographs
With a review on the history of the city of Seoul
by Martin Mosebach
80 pages, edition of 300 copies
bilingual en / dt
Edition WortOrt, Berlin 2011
To participate in an infinity that determines life through measure and deviation, rhythm and variation - this vision is played through in this book in various genres.
It is a common idea that these forms are the basis of our experience of time as continuity and change, as the interplay between beginning and end according to the law of currency. In search of a certain differentiated view of beauty, a more profound beauty that comes from the order of its parts. With the question of how we best relate to our human nature in terms of fears, amazement, curiosity and our sense of complexity.
An einem Unendlichen teilzuhaben, die das Leben bestimmt durch Maß und Abweichung, Rhythmus und Variation - diesen Vorgaben folgen wir im vorliegenden Buch anhand von mehreren Genres. Es gilt verborgene Wahrnehmungsmuster zu erkennen, deren Bilder unsere Zeiterfahrung als Dauer im Wechsel zeigen und unsere Erfahrung von Abschied und Neuanfang als Wandel nach dem Gesetz der Währung. Auf der Suche nach einer tiefer liegenden Schönheit, die aus der Ordnung der einzelnen Teile kommt. Mit der Frage nach unserem Selbstverhältnis, dem Verhältnis zu unserer eigenen Natur, nach den Ängsten, dem Staunen, der Neugier und dem Sinn für Komplexität.
Rosemarie Zens